Last week I had the honor of attending my niece's wedding. It was gorgeous, the bride was beautiful, the groom was wonderful… All in all a fabulous time was had by all and I got to help! The groom had already gone and picked out rings- which were very lovely- but I had the pleasure of designing and creating a custom pendant just for my niece.
My niece has a very interesting style personality. Traditional, elegant, a true Lady, but with unexpected ripples of modern twists and quirks. So when I offered to design a pendant for her, I have to admit, I was a little nervous. How would I balance all of these aspects in a single design?
Keep in mind, the proposed scale of these pendants is actually quite small. Number 8 is no more than 11mm wide, with the total height of each of the pendants being approximately 1.5 inches tall.
By this point, I'd seen her stunningly gorgeous dress. Lace sleeves, sweetheart neckline, full train- the works. Her dress has the timeless elegance of every classic design from the turn of the last century. So my designs were leaning in Edwardian directions, while still trying to incorporate  the simple fluid lines my niece favors.
She  loved number 3 and number 5, with an emphasis on number 5, and left the details completely up to my artistic judgement. So I set out to turn a two dimensional sketch into a three dimensional art piece of elegant adornment. First stop- my gemstones. I'd ordered several blue topazes for the custom Christmas Pendant I made last November, and had several to choose from for this pendant. But I ran into trouble with the graduated swirl of stones down the side.
My original plan was to use sapphires, but I just didn't like the sapphires next to the topaz. Something to do with the disparate tones of blue. Never one to stand in the way of design, I reached for the blue diamonds instead, which coordinated beautifully, as always. I really really love blue diamonds and use them any time I can, just in case anyone's curious.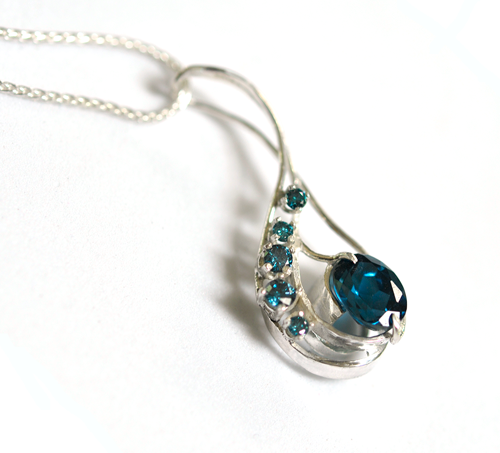 As I built the pendant I kept thinking about what it means to be married. How you have to be flexible, and flow with the situation. So I forged the pendant into a flow of silver, framing the gemstones. I thought about how you have to work together as a team to make everything work, and created a unique setting with two prongs holding the single blue topaz.  Finally, I thought about how two lives are brought together, and forged into one cohesive whole, and selectively polished the forged highlights of my creation, to emphasize the forging.
My niece was thrilled, and I couldn't be happier.
Congratulations to my lovely niece and her wonderful new husband!