One of a kind Art that you can wear.
For the woman who delights in beauty.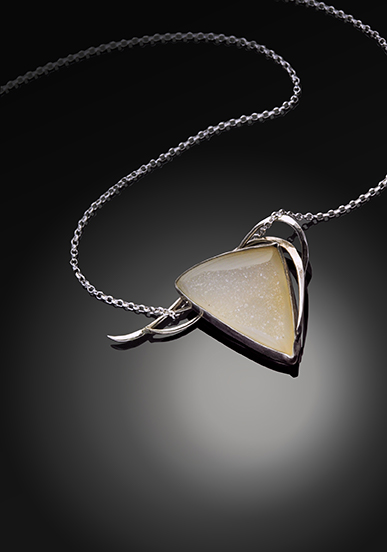 Graceful, elegant, alluring… a siren song in distinctive silver. Evocative of perptually fluid motion, this is Art Jewelry at it's most seductive.
Sensuous as moonlight on open waters, that gilds the waves in silver and moondreams. Each piece a gleaming adventure. A forbidden swim below the stars.  A last minute flight to Paris, with nothing but your passport and a smile. An exuberant finish in the regatta- followed by champagne brunch on the beach.
Rarely has silver been forged in such distinctively elegant sinuous lines. Gleaming exotic cuts of sparkling gemstones set these one of a kind pieces apart, and reflect your soul's beauty perfectly. Joyful curves are tantalizing to the eye… soul-stirring poetry in arrested motion.
My name is Kaelin Cordis
I'm an Artist- and my media is Art Jewelry.
Tiny Sculptures that you can wear.
Every piece I create is inspired by the world around us, all the many details that make up the beauty that surrounds us. From the dancing of flames that represents the flicker of hope in times of despair, or the cheerful ripple of waters that flow over every obstacle, I find beauty in the smallest moments.
Each piece is a tiny sculpture representing the single moments that make life precious, if only we notice and cherish them.
I forge wearable artworks as jewelry for the women who collect experiences, and seek out alluring beauty.