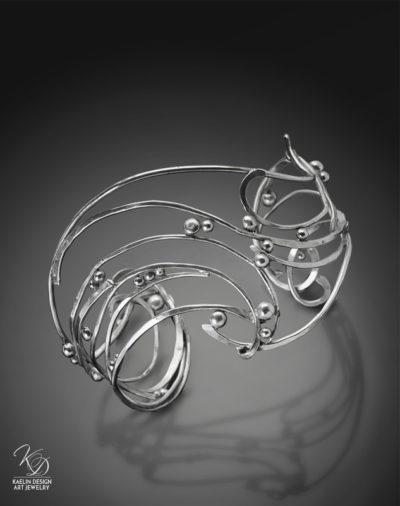 Wave Cuff Bracelet
Inspired by the crashing of waves upon the shore, this water and ocean inspired cuff bracelet is hand forged, unique, and will never be made again. Collect this piece of artwork before it ebbs away with the tides…
Complimentary Standard US shipping and Returns >
Enjoy complimentary standard shipping on all US orders.
Free Returns within 7 Days, less shipping costs.
Additional Shipping Information
Standard shipping includes First Class mail with tracking number and insurance for all orders totaling less than $150, and complimentary Priority Mail for orders totaling more than $150. Faster shipping options, and alternate shipping services are available upon request. Please contact me for details.
International Shipping is available to most countries. I will regretfully cancel your order if I cannot legally ship precious metal jewelry to your country.  If your country allows the import of precious metal jewelry, I am pleased to offer you a $10 credit towards your shipping costs. Please contact me for a shipping quote.
Please see my shipping page for FAQs on shipping >
Additional Returns Information
If you're less than thrilled with your jewelry- for any reason, and at any time–  I want you to let me know immediately, so I can start working on making you happy.
If your order arrives, and it wasn't exactly what you wanted, I'll be happy to issue you a full refund, less any shipping costs, for 7 days after you receive your order.
For orders received within the last 45 days, I will refund you the purchase price, minus shipping and a 25% restocking and cleaning fee.
Regrettably, custom orders are not returnable.
I also offer lifetime repairs on all of my work.
Please see my returns page for FAQs and detail about my repair policy >
Hand Forged in Argentium Silver, this open cuff bracelet is inspired by the crashing of the waves. Stirred by the wind, and built on the tides, the waves roll unceasingly across the oceans. A voyage to unknown destinations, a search for treasure in exotic locales, and the serene play of moonlight upon the shifting seas... The waves have swept the earth in endless beauty since the dawn of time. Endlessly fascinating, awash with possibilities, and sparkling at every turn.
I hand forged this one of a kind open cuff bracelet in my studio while drifting through a day dream of ocean waves. In my mind's eye, I remembered watching the waves roll beneath the bow of a sailboat, and crash against a rocky Pacific shoreline in a froth of bubbles and sea foam. How could I not forge silver waves awash with bubbles of shimmering silver?
Wave Cuff Bracelet