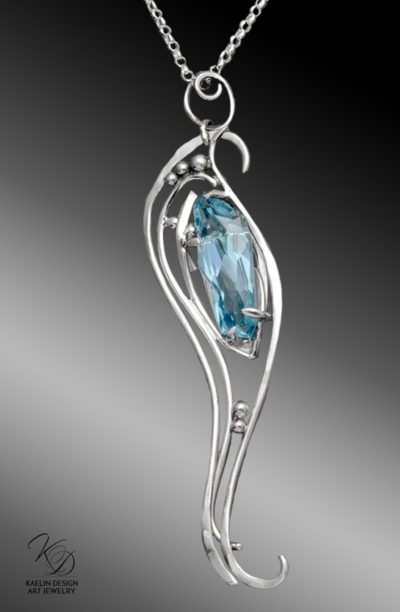 Upon the Waters
Inspired by rippling waters, that gently drift, carrying cares away to distant shores. Hand forged, and featuring a custom-cut Blue Topaz, this pendant is a one of a kind piece, never to be seen again.
Complimentary Standard US shipping and Returns >
Enjoy complimentary standard shipping on all US orders.
Free Returns within 7 Days, less shipping costs.
Additional Shipping Information
Standard shipping includes First Class mail with tracking number and insurance for all orders totaling less than $150, and complimentary Priority Mail for orders totaling more than $150. Faster shipping options, and alternate shipping services are available upon request. Please contact me for details.
International Shipping is available to most countries. I will regretfully cancel your order if I cannot legally ship precious metal jewelry to your country.  If your country allows the import of precious metal jewelry, I am pleased to offer you a $10 credit towards your shipping costs. Please contact me for a shipping quote.
Please see my shipping page for FAQs on shipping >
Additional Returns Information
If you're less than thrilled with your jewelry- for any reason, and at any time–  I want you to let me know immediately, so I can start working on making you happy.
If your order arrives, and it wasn't exactly what you wanted, I'll be happy to issue you a full refund, less any shipping costs, for 7 days after you receive your order.
For orders received within the last 45 days, I will refund you the purchase price, minus shipping and a 25% restocking and cleaning fee.
Regrettably, custom orders are not returnable.
I also offer lifetime repairs on all of my work.
Please see my returns page for FAQs and detail about my repair policy >
Upon the Waters is a unique hand forged Silver pendant necklace featuring a one-of-a-kind custom cut blue Topaz. This art piece is inspired by skipping stones across a still pond, watching the ripples spread in every direction. Arcing and swirling in eddies of shimmering silver, reflecting, moving, shimmering upon the waters...
The ripples fascinate- how can one small touch make such a difference? The lightest touch, and everything is affected. Like the smile of a stranger, or an unexpected visit from a friend, that ripples through the day bringing unexpected laughter and joy...
Upon the Waters is a one of a kind art piece, hand forged by Kaelin. This is a one-of-a-kind original, forged for the true collector, in anti-tarnish Argentium Silver.
Upon the Waters