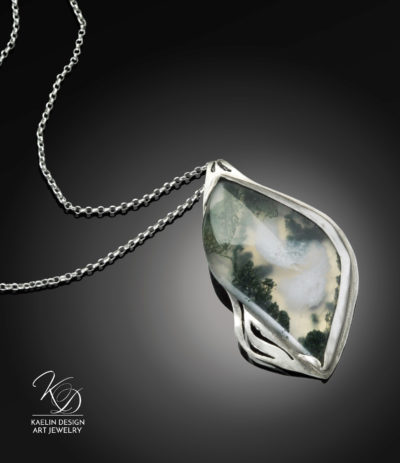 Serenity
Fog drifts through the forest, drifting dreams of autumn, leaving serenity in it's wake...
Complimentary Standard US shipping and Returns >
Enjoy complimentary standard shipping on all US orders.
Free Returns within 7 Days, less shipping costs.
Additional Shipping Information
Standard shipping includes First Class mail with tracking number and insurance for all orders totaling less than $150, and complimentary Priority Mail for orders totaling more than $150. Faster shipping options, and alternate shipping services are available upon request. Please contact me for details.
International Shipping is available to most countries. I will regretfully cancel your order if I cannot legally ship precious metal jewelry to your country.  If your country allows the import of precious metal jewelry, I am pleased to offer you a $10 credit towards your shipping costs. Please contact me for a shipping quote.
Please see my shipping page for FAQs on shipping >
Additional Returns Information
If you're less than thrilled with your jewelry- for any reason, and at any time–  I want you to let me know immediately, so I can start working on making you happy.
If your order arrives, and it wasn't exactly what you wanted, I'll be happy to issue you a full refund, less any shipping costs, for 7 days after you receive your order.
For orders received within the last 45 days, I will refund you the purchase price, minus shipping and a 25% restocking and cleaning fee.
Regrettably, custom orders are not returnable.
I also offer lifetime repairs on all of my work.
Please see my returns page for FAQs and detail about my repair policy >
I live next to a tall grove of pine trees. All year long I look forward to those first days of fall that bring the morning fog drifting through their shadowy boughs. It's mesmerizingly beautiful, to watch the tendrils curl and float along the air, highlighted against the dark of the branches. The air is calm, and the morning is almost silent... It's a still small moment of serenity before the rush and bustle of the day.
This pendant is an interpretation of that fleeting moment of serenity. I set this gorgeous Moss Agate in a gleaming silver bezel, that leaves one side of the stone open, allowing light to pass through and brighten the stone. Not being content with that, I also pierced the backplate of the pendant echoing the drifting swirls of fog, allowing even more light to enter, and causing the light to shift within the stone.
A unique art pendant, for the woman who embraces Serenity.
Serenity