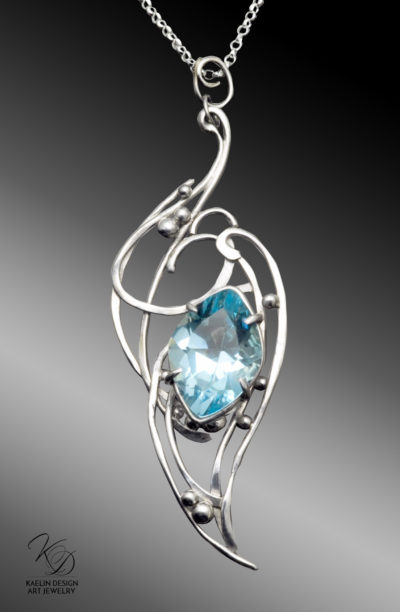 Lady of Shalott
Inspired by the Lady of Shalott,  where imagination and magic meet, and float among the lilies, down to Camelot.
Complimentary Standard US shipping and Returns >
Enjoy complimentary standard shipping on all US orders.
Free Returns within 7 Days, less shipping costs.
Additional Shipping Information
Standard shipping includes First Class mail with tracking number and insurance for all orders totaling less than $150, and complimentary Priority Mail for orders totaling more than $150. Faster shipping options, and alternate shipping services are available upon request. Please contact me for details.
International Shipping is available to most countries. I will regretfully cancel your order if I cannot legally ship precious metal jewelry to your country.  If your country allows the import of precious metal jewelry, I am pleased to offer you a $10 credit towards your shipping costs. Please contact me for a shipping quote.
Please see my shipping page for FAQs on shipping >
Additional Returns Information
If you're less than thrilled with your jewelry- for any reason, and at any time–  I want you to let me know immediately, so I can start working on making you happy.
If your order arrives, and it wasn't exactly what you wanted, I'll be happy to issue you a full refund, less any shipping costs, for 7 days after you receive your order.
For orders received within the last 45 days, I will refund you the purchase price, minus shipping and a 25% restocking and cleaning fee.
Regrettably, custom orders are not returnable.
I also offer lifetime repairs on all of my work.
Please see my returns page for FAQs and detail about my repair policy >
Once upon a time I had a poster of John William Waterhouse's Lady of Shalott. The lighting, the shadows- the beautiful story of imagination and magic that drenched the scene, and sparked the imagination is captivating. It was years later that I read Tennyson's poem, which was not at all the story I'd read between the brushstrokes! And I loved it anyway. But just this week, I listened Loreena McKinnett sing the ballad... once again my mind drifted among the reeds, where the lilies flow, and Camelot beckoned in a dream of magic and beauty... and I dreamed this pendant.
Hand forged in Argentium Silver, and featuring a stunning 10.92 carat blue Topaz, Lady of Shalott is a one of a kind pendant, swirling with hammer strokes and bubbles of gleaming silver that measures 3 inches in length.
Lady of Shalott