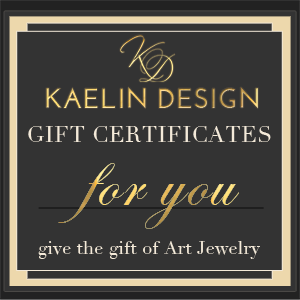 Kaelin Design Gift Certificates
What My Customers Are Saying
Don't just take it from me, let my customers do the talking!
"Beautiful wearable jewelry for any occasion! Kaelin goes above-and-beyond amazing customer service with her creative, hand-forged jewelry and thoughtful gift wrapping. It's the little details that make me smile when my orders arrive from her – it's like a mini birthday all over again!"
"Kaelin designs the most beautifully unique jewelry that makes me feel good about myself! Her pieces are so exceptually beautiful that I have a problem when ordering, I want them ALL but usually have to settle for one at a time. I always get compliments on her jewlery when I wear them out! Thank you Kaelin. You make me proud to display your art pieces! "
"BEAUTIFUL work.. just wonderful, Love the flow of the lines… the designs are stunning!"
Frequently Asked Questions
Can I use the gift certificate on all pieces in the catalog?
Of course! There are no limitations to what the gift certificate can be used for.
Do your Gift Certificates ever expire?
Nope. Never. If you have purchased a gift certificate for someone, I will keep a record of that purchase so that they may use it at any time.
Can I use your gift certificate for a custom order?
Absolutely! If the recipient decides that what they really want is a custom order, I will be happy to use the credit towards the cost of a custom piece.
What is your refund policy on Gift Certificates?
I will be happy to offer a full refund to you, the original purchaser, of any unused balance at any time.
Don't Be Shy
If I didn't answer all of your questions, feel free to drop me a line anytime.