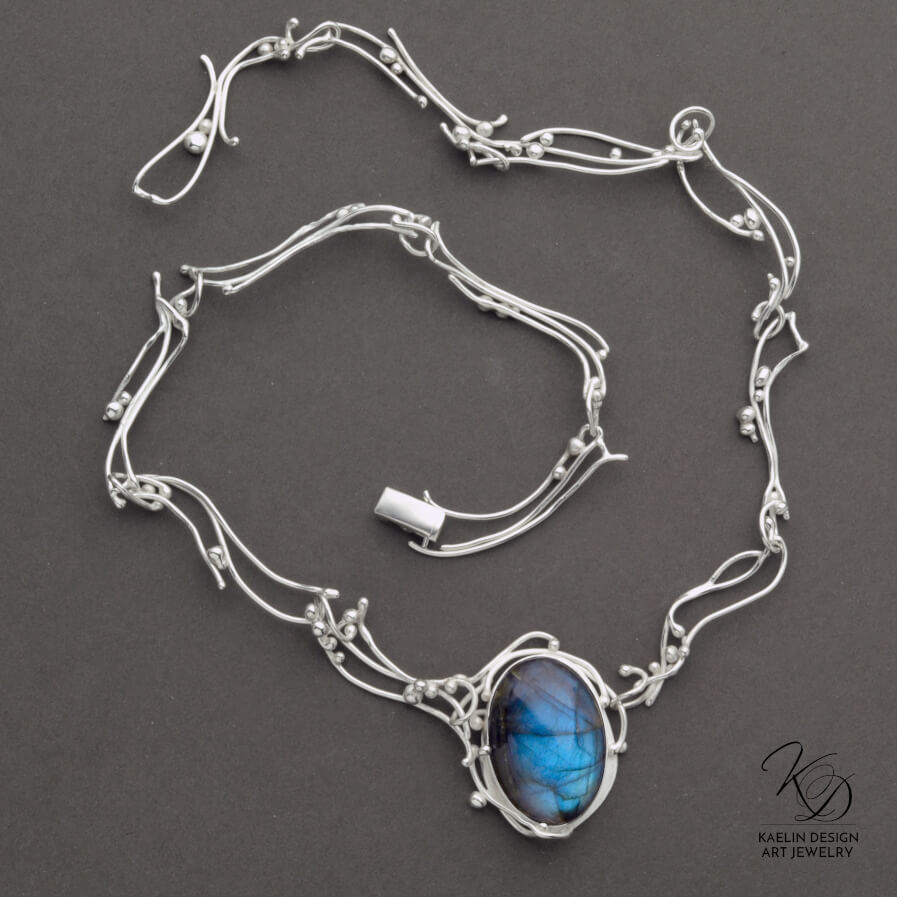 Turbulent Waters Labradorite Necklace
Captured in a cascade of silver, the Turbulent Waters necklace swirls around stunning Labradorite cabochon, inspired by the nature of strength.
Complimentary Standard US shipping and Returns >
Enjoy complimentary standard shipping on all US orders.
Free Returns within 7 Days, less shipping costs.
Additional Shipping Information
Standard shipping includes First Class mail with tracking number and insurance for all orders totaling less than $150, and complimentary Priority Mail for orders totaling more than $150. Faster shipping options, and alternate shipping services are available upon request. Please contact me for details.
International Shipping is available to most countries. I will regretfully cancel your order if I cannot legally ship precious metal jewelry to your country.  If your country allows the import of precious metal jewelry, I am pleased to offer you a $10 credit towards your shipping costs. Please contact me for a shipping quote.
Please see my shipping page for FAQs on shipping >
Additional Returns Information
If you're less than thrilled with your jewelry- for any reason, and at any time–  I want you to let me know immediately, so I can start working on making you happy.
If your order arrives, and it wasn't exactly what you wanted, I'll be happy to issue you a full refund, less any shipping costs, for 7 days after you receive your order.
For orders received within the last 45 days, I will refund you the purchase price, minus shipping and a 25% restocking and cleaning fee.
Regrettably, custom orders are not returnable.
I also offer lifetime repairs on all of my work.
Please see my returns page for FAQs and detail about my repair policy >
Turbulent Waters is hand forged and fused entirely of Argentium Silver, and is inspired by the fluid nature of strength.
Strength is not a constant. In the hectic days that threaten to overwhelm, strength ebbs and flows, surging forth when needed, and receding like the tides back into the depths of soul. The fluidity of strength is inherently fascinating- breaking forth when most needed, just when we think it's not possible to hold on... the storm breaks, and there we stand strong and resilient unbowed by the storms of life.
I forged each separate wave piece, and created the Argentium granules. I continued by fusing the entire piece link by link, to reference the resilience of the material's inherent strengths. I tension set a Labradorite cabochon to reference the open seas, and included an integrated front clasp. Finally, I  finished the piece with polishing before using a kiln to bring the Germanium to the surface to increase tarnish resistance through surface passivation.
This piece is a one of a kind celebration of strength, art, and the mystery of the ocean.
Turbulent Waters Labradorite Necklace