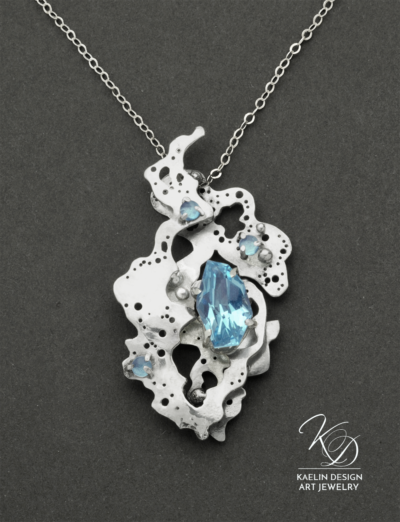 Ocean Foam
This ocean art pendant is directly inspired by the ebb and flow is sea foam along the shore. It is a myriad of sparkling mirrored bubbles- ephemeral and intermittent. Like a dozen trillion tiny worlds that exist only to delight, there and then gone.  I am captivated by the ocean in all its forms. From […]
Complimentary Standard US shipping and Returns >
Enjoy complimentary standard shipping on all US orders.
Free Returns within 7 Days, less shipping costs.
Additional Shipping Information
Standard shipping includes First Class mail with tracking number and insurance for all orders totaling less than $150, and complimentary Priority Mail for orders totaling more than $150. Faster shipping options, and alternate shipping services are available upon request. Please contact me for details.
International Shipping is available to most countries. I will regretfully cancel your order if I cannot legally ship precious metal jewelry to your country.  If your country allows the import of precious metal jewelry, I am pleased to offer you a $10 credit towards your shipping costs. Please contact me for a shipping quote.
Please see my shipping page for FAQs on shipping >
Additional Returns Information
If you're less than thrilled with your jewelry- for any reason, and at any time–  I want you to let me know immediately, so I can start working on making you happy.
If your order arrives, and it wasn't exactly what you wanted, I'll be happy to issue you a full refund, less any shipping costs, for 7 days after you receive your order.
For orders received within the last 45 days, I will refund you the purchase price, minus shipping and a 25% restocking and cleaning fee.
Regrettably, custom orders are not returnable.
I also offer lifetime repairs on all of my work.
Please see my returns page for FAQs and detail about my repair policy >
This ocean art pendant is directly inspired by the ebb and flow is sea foam along the shore. It is a myriad of sparkling mirrored bubbles- ephemeral and intermittent. Like a dozen trillion tiny worlds that exist only to delight, there and then gone. 
I am captivated by the ocean in all its forms. From the briny deeps to the shallowest tidepool- each face of the ocean is breathtaking and inspiring. All the world is touched in one way or another by the ocean- and yet so much of it is still undiscovered. Mysterious and overwhelming, or gently lapping on sunlit beaches... the ocean is indescribably wonderful.
I see these temporary beauties as a reflection of the multitude of small miracles that make life astonishing. The shifting seas revealing breathtaking beauty, before life sweeps along and reveals something completely different. 
Sea Foam is hand fabricated in Argentium Silver, fused and formed to frame a 6.4 carat Blue Topaz, and accented by three 3mm blue Topaz mini cabochons. 
Ocean Foam